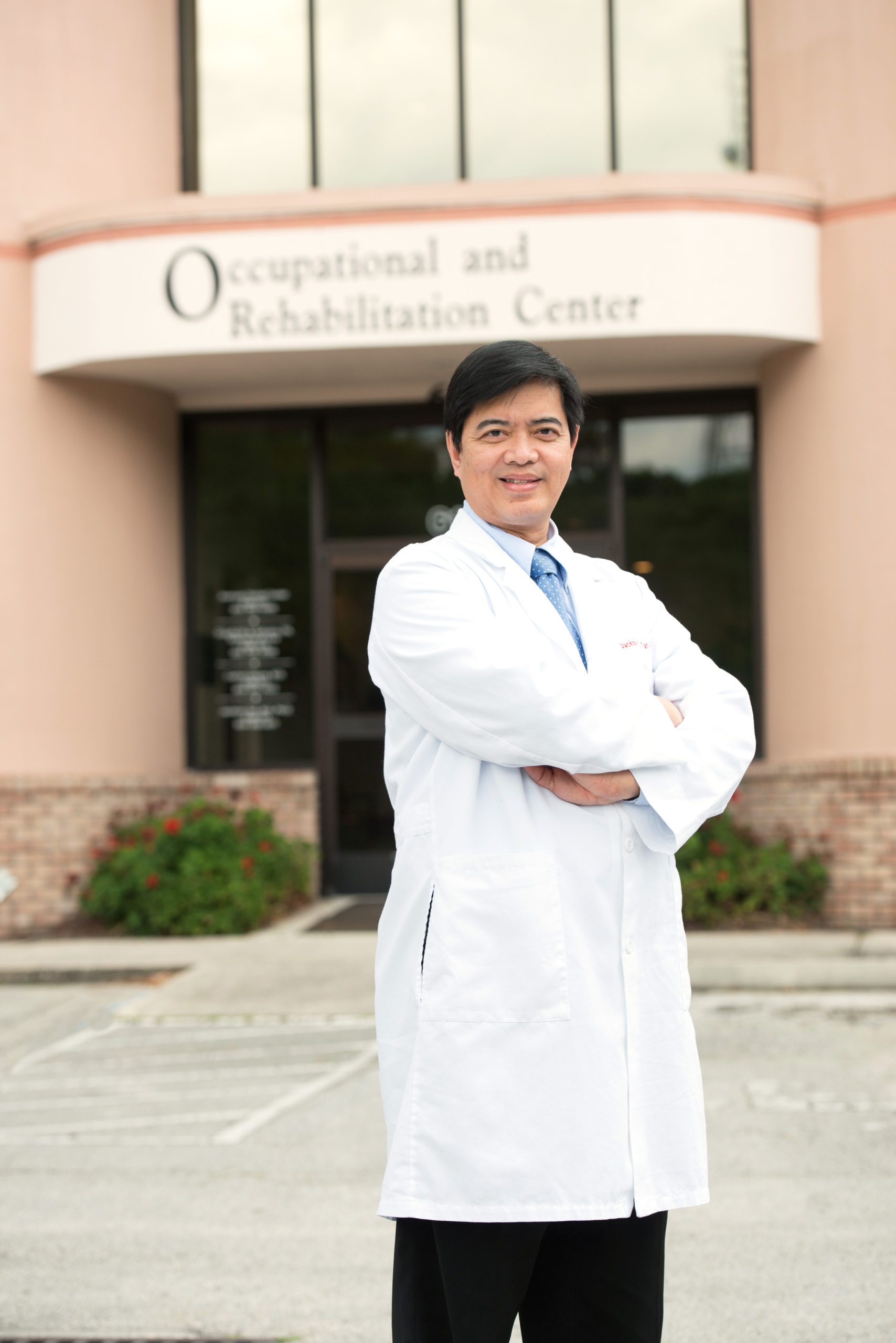 Dr. Jackson C. Tan. MD, PT, PhD, CIME
"As the Medical and Clinical Director of Occupational and Rehabilitation Center (ORC) since 1996, my goal has been to lead a highly-skilled interdisciplinary rehabilitation team in an outpatient setting that is patient-centered.  I take pride in the excellent medical rehabilitation care we provide.  I am also proud of our growth in offering three locations without sacrificing the personal attention our patients deserve. I value a positive doctor-patient relationship and I treat each patient as an individual. Many of our medical and administrative staff members are life-long Jacksonville area residents who have been with ORC for many years. As a team we never lose sight of the fact that we are caring for our neighbors in the community we all call home."
Dr. Tan believes every patient is unique and should have a customized individual medical rehabilitation plan.  When a patient is referred to ORC, they personally see Dr. Tan, not a physician's assistant or a nurse.  Seeing patients successfully complete their medical rehabilitation programs and go on to regain  function and a high quality of life is what Dr. Tan finds most rewarding. The ORC logo is an upward spiral, which symbolizes ORC's mission and commitment to every patient's positive progress and journey to health and wellness. Together with his staff, Dr. Tan, as medical director and clinical team leader develops a comprehensive non-invasive medical rehabilitation program, customized for every individual, to bring the patient to their optimum function. ORC offers a healing environment where patients benefit from an unparalleled level of experience, expertise, and continuity of care from Dr. Tan and his team.
As a PM&R doctor (also called Physiatrist), Dr. Tan focuses on non-invasive treatment of musculoskeletal and neuromusculoskeletal disorders resulting from disease or injury.
Board Certification in Physical Medicine and Rehabilitation
Diplomate of the American Academy of Physical Medicine and Rehabilitation
Medical Doctor
Former Chief Resident-Physical Medicine and Rehabilitation (PM&R) at Rusk Institute of Rehabilitation Medicine, New York University (NYU) Langone Medical Center, NYU School of Medicine, the world's first and among the largest university-affiliated academic centers devoted entirely to inpatient/outpatient care, research, and training in rehabilitation medicine for both adults and pediatric patients.
Author
"Outstanding Contribution Award" presented at the United Nations after the publication of his medical textbook, Practical Manual of Physical Medicine and Rehabilitation: Diagnostics, Therapeutics and Basic Problems, of which a copy is kept as part of the collection in the Library of Congress.  Both the first and second editions of Dr. Tan's textbook have been used at medical schools, PM&R, and other residency programs, and by allied health practitioners in the United States and abroad. The third edition of his textbook, to be published by Elsevier, now titled Tan's Practical Manual of Physical Medicine and Rehabilitation, is scheduled for release in 2023.
Academic and International speaker
Dr. Tan has lectured in the U.S.A. and internationally on various PM&R and physical therapy topics and his publications have been cited numerous times by other academics and research scientists. Prior to his residency training, Dr. Tan earned a PhD in physical therapy from NYU. His published research and dissertation is on the use of electromyography (EMG) to determine the pattern of recruitment of the trunk muscles during trunk extension.   He served as an Adjunct Clinical Professor at NYU's Rusk Institute of Rehabilitation Medicine
Physical Therapist (formerly licensed in New York and Florida)
Dr. Tan was a practicing licensed physical therapist in New York City (Manhattan) at the Hospital for Joint Diseases-Orthopedic Institute, at the Occupational and Industrial Orthopedic Center, and with a pain management specialist at Lenox Hill Hospital in New York City.
At Occupational and Rehabilitation Center, we have more than 35 years experience in providing physical medicine and rehabilitation services.  Our team of highly trained clinicians provides quality medical care patients need with the personal attention they deserve.
Our Mission
To empower every patient to achieve their highest level of function and live their best life through exceptional rehabilitation.
Our Vision
Occupational Rehabilitation Center is Northeast Florida's leader in providing exceptional rehabilitation solutions, enhancing the health and well-being of our community.
Our Values
Exceptional medical care through:  Honesty, Service, Compassion, Teamwork, and Commitment to our neighbors and local community.